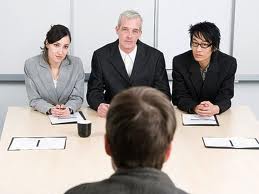 Many people dream of working in a bank. It is not easy to get this job, however, becasue anyone can apply for it (there are no special requirements on education or experience of the candidates).
More often than not, you will compete with twenty (or more) job seekers in an interview, all of you trying to get the single job opening of a bank teller. 
Learning what questions you can expect, how to make a good impression on the interviewing panel, and how to flourish in a role play, should significantly improve your chances of succeeding, and signing a job contract with the bank. I will try to help you with the task…
Welcome to BankTellerInterviewQuestions.com, a website that specializes only in bank teller interviews. My name is Jacob Gates, I worked as an interviewer at Wells Fargo and Bank of America, and today I will help you to get the job.
Personal and behavioral questions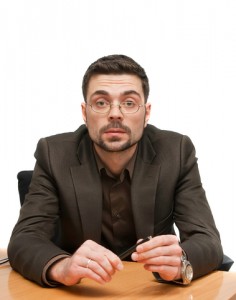 They will ask about your motivation, your experience with customer service, your knowledge of banking products, your sales skills.  What is more, you will have to deal with behavioral questions (describe a conflict with a colleague, describe a stressful situation from work, etc), and with a role play. 
Let's have a look at the particular questions.
Note: Clicking a question will direct you to a new page where I analyze the question and offer you some sample answers.

What characterize a good teller from your point of view?
Describe a conflict you had with a colleague in the past.
Give an example of you dealing with an irate customer and what you did to fix the problem?
Give an example of a time you made a point to go above and beyond with customer service.
What would you do if you saw a fellow employee take $100 that belonged to the bank?
What banking products do you personally use and why?
Describe a situation when you felt pressure in work. How did you handle the pressure?
This job can be repetitive. What would motivate you to do it well every day?
Where do you see yourself in 5 years time?
What are your salary expectations?
Do you have any questions?
…
Not everyone can become a good teller
Your chances to succeed will improve if you have brilliant answers to the questions from our list, but still, you will have to convince the interviewers about having the right skills and personality for the job. They must believe that you meet the following criteria:
Good communication skills.
Passion for talking to people, a positive attitude and opinion about the others.
Ability to uncover the needs and desires of various people.
Ability to sell banking products.
Good knowledge of banking products, or at least a strong interest to learn more about the field.
High level of responsibility and loyalty to your employer.
Whether you really meet this criteria or not is not decisive. What matters is whether you can convince the interviewers of meeting them.
Do interview questions for tellers differ in various banking institutions?
While banks have their own, personalized interview processes, we should not forget that it goes about the same position every time – a position of a teller. Logically, the questions will be similar, regardless of the country, or banking institution you apply for a job with.
On the other hand, some big banks have designed special interview processes, in order to stand out from their competitors.
Bank of America and Wells Fargo belong to this elite group. If you apply for a teller position in one of these two banking institutions, I suggest you to have a look at Wells Fargo Interview Guide, or Bank of America Interview Guide. I wrote both eBooks, and I have worked for both banks. But if you apply for a job at other bank, please continue reading these lines. 

Asking questions
You should ask at least one or two questions in your interview, if they give you a chance to ask something. The schedule is often packed (they always interview many applicants on the same day), and there is not much room for the discussion with the interviewers. However, if you get a chance to ask questions, for example in your second interview (with the branch manager), you should focus on the following things:
Working environment
Benefits and perks
Recruitment process (next stages)
Banking products
Values and goals of their branch
Winning the hearts of the interviewers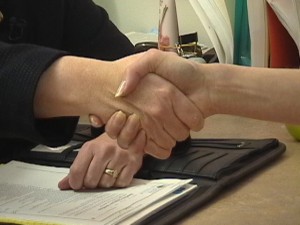 You should never forget that interviewers are just men and women, like I and you.
If you manage to build good relationship with them in the course of an interview, it will help you tremendously, especially becasue it is not easy to stand out in this particular interview (previous experience, or your education, does not play an important role when they decide about your job application).
It is not easy to build relationships with the interviewers. If you understand the basics of human psychology, however, and know how to work with people, you should manage it slightly better than the people who lack the knowledge.
Walking one extra mile
Twenty competitors, tough behavioral questions, and a role play at the end of the interview. No wonder if you are scared. Many job seekers are. But stress will not help you to deliver your best performance. And you will need your best performance to succeed…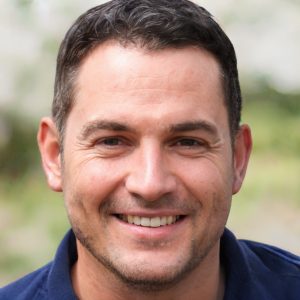 I hope that the information on my website will help you to prepare for the interview, and get rid of stress.
If you would like to ensure that you did your very best to prepare for a bank teller interview, however, I suggest you to check my eBook. You will learn brilliant answers to all difficult interview questions, and understand the winning interview strategies that will help you to stand out.
Thank you, I wish you good luck in your interview!
Jacob Gates, Your Personal Interview Coach